Jurassic World: Dominion Dominates Fandom Wikis - The Loop
Play Sound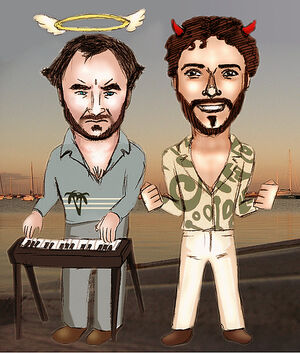 Yacht Rock is an 12-part series following the fictionalized lives and careers of American soft rock stars of the late 1970s and early 1980s. Created by JD Ryznar, Hunter D Stair and Lane Farnham, it is one of the most successful projects to come out of Channel 101.
J. D. Ryznar and Hunter D. Stair devised the series after noticing the incestuous recording careers of such bands as Steely Dan, Toto, and The Doobie Brothers and the singer-songwriters Kenny Loggins and Michael McDonald. For example, McDonald co-wrote Loggins' "This Is It" and Loggins co-wrote McDonald's band The Doobie Brothers' "What a Fool Believes" and also performed backing vocals for several other 'yacht rock' artists, including Steely Dan and Christopher Cross. Yacht Rock's episodes were "hosted" by "Hollywood" Steve Huey, a legitimate music critic for Allmusic. It should be noted that the term "Yacht Rock" is never used throughout the series by any characters except for by Huey during his introductions, instead it is always referred to as "Smooth Music". The look of the series was the responsibility of the show's editor Lane Farnham.
Channel101.com Summary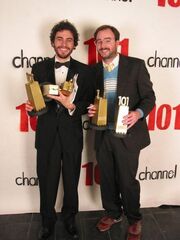 What can be said about Yacht Rock that hasn't been said by various magazines, newspapers and disc jockeys across the country? J.D. Ryznar and Hunter Stair's saga detailing the unknown mythical origins of a previously obscure genre of music struck the audience like a lightning bolt on its first episode, much like fellow 101 breakout House of Cosbys. Unlike HoC, however, Yacht Rock was never sued by its iconic characters' real life counterparts. In fact, it is said that at one time or another, just about every musician lovingly portrayed in the series has witnessed and enjoyed it behind closed doors. Yacht Rock enjoyed success on levels and in ways previously unattained by 101 shows, its title becoming a household phrase at radio stations, a bin at your local record store and a category on iTunes. But beneath its pop cultural triumph was an artistic one that often went undescribed: Yacht Rock's stories were always clever and sometimes downright genius in their assembly, weaving trivia, common knowledge, exaggerations and fabrications into a rope strong enough to hold it at the #1 position for an unbelievable number of non-consecutive months, setting audience share records at Channel 101 that are unlikely to be broken any time soon and sweeping the 2005 Channy Awards. Ironically, Channel 101's most memorable show came to its end quietly and unremarkably, not unlike some of the careers it saluted with a smirk. Instead of choking on its vomit in a Paris bathtub or overdosing on a Hollywood sidewalk, Yacht Rock simply told us one last story about Steely Dan, then hoisted its sails and drifted away while a satisfied crowd waved goodbye from the docks, exactly one incredible year after its historical debut. Bye, Yacht Rock. We loved you.
Synopsis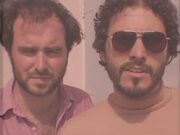 Ryznar admits to having a fascination with the music of the period. Ryznar explains, "Getting into Steely Dan really started this for me. As did the ability to buy dollar records at Amoeba and put them on tapes for my car. Kenny Loggins has made his way into all the pilots I've been involved with except one.[1]" As Ryznar told Reuters contributor Andy Sullivan, "I'm making fun of the songwriting process, but the music is generally treated pretty lovingly."[2]
The series depicts some realistic aspects of the music, but builds exaggerated storylines around them. For example, main protagonists Loggins and McDonald receive inspiration from a fictional Yacht Rock impresario named Koko Goldstein, whose death in Episode 2 ultimately leads them to go their separate ways musically. Another example is the series' presentation of several real-life characters. McDonald is an idealistic and earnest singer/songwriter, but takes both Smooth Music and himself far too seriously. Loggins is his easygoing friend and frequent collaborator who eventually abandons Smooth Music in favor of commercial rock and roll in the 80s, which strains their friendship. The portrayal of John Oates as the abusive, foulmouthed leader of Hall & Oates, exerting sometimes violent control over the milquetoast Daryl Hall, is clearly different from reality, in which Hall is the main lead vocalist and songwriter with no hint of a rivalry. Christopher Cross is depicted as a wide-eyed, timid newbie whose song "Sailing" is lauded as the "smoothest song ever". Loggins' former partner Jim Messina is a bitter wino who hates Loggins for his success and perceived betrayal. Michael Jackson is depicted as a hard-rock enthusiast who believes his partnership with guitarist Eddie Van Halen will lead to an endless parade of female sexual conquests. Jeff Baxter, the Doobie Brothers' lead guitarist, is seen threatening to kick McDonald "out of the Doobies" if he doesn't write them another hit. The real Baxter did bring McDonald into the band but, as they achieved their greatest commercial success, Baxter left the Doobie Brothers because of his displeasure with their new commercial sound and attitude. The Eagles (portrayed here as jock-like meatheads) and Steely Dan (portrayed as snarky nerds, with Donald Fagen speaking in an incoherent babble of Scat) really did insert lyrical references to each other in their music, as depicted in the show, but these were actually friendly in nature, not part of a longtime grudge involving baseball bats and lunch-money shakedowns.[3]
The series was written, directed, and produced by Ryznar, co-produced by David B Lyons and Hunter Stair, and edited by Lane Farnham. The production has a "bad-on-purpose aesthetic".[4] Ryznar credits lots of people here.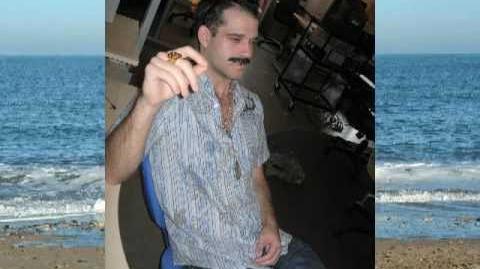 Yacht Rock debuted on Channel 101 at the June 26, 2005 screening. It placed in the top five at subsequent screenings until the June 25, 2006 screening, where it placed seventh and was canceled.
However, the show remained a popular download on Channel 101, convincing the creators to make an 11th episode independently. This episode, featuring Jason Lee as Kevin Bacon, debuted during a screening at the Knitting Factory in New York City on December 27, 2007. A month later, Channel 101 themselves included it in a screening, and hosted it on their website along with the other episodes on January 28, 2008.[5]
Of the episode, Abed Gheith had this to say:
"Truly a great and wonderful episode in all ways. From the blood bath Footloose scene to the Me-L.T. There were moments in this that restored those awesome memories from what seemed like ages ago. I think Sevan said something that he heard Hunter say that was pretty crazy, about seeing the show up there was like ghosts on the screen. It was a wonderful ride down memory lane of Channel 101's best days."
A 12th and final episode premiered in April 2010.
Music in the show
"Yacht rock" is a name[6][7] for the popular soft rock that peaked between the years of 1975 and 1984. Significant "yacht rockers" include Michael McDonald, Kenny Loggins, Christopher Cross, and Toto. In the musical sense, yacht rock refers to the highly polished brand of soft rock that emanated from Southern California] during the late 1970s and early 1980s. In part, the term relates to the stereotype of the yuppie yacht owner, enjoying cocaine and smooth music while out for a sail. Additionally, since sailing was a popular leisure activity in Southern California, many "yacht rockers" made nautical references in their lyrics, videos, and album artwork, particularly the anthemic track "Sailing" by Christopher Cross.
Yacht Rock music is commonly described as, "A little bit better than elevator music!"
The foundation of the yacht rock scene was a local pool of versatile session musicians who frequently played on each other's records. This professionalism often gave yacht rock recordings a high level of sophistication in composition, arrangement, and instrumental skill.
The most popular yacht rock artists enjoyed considerable commercial success. During its peak years, yacht rock dominated the Grammy Awards, with Christopher Cross and Toto sweeping the major awards in 1981 and 1983 respectively, feats consistently derided by Grammy prognosticators.[8] However, yacht rock was not a hit with most rock critics at the time, who dismissed it as being corporate rock that was overproduced, generic, and middle of the road, instead favoring punk and new wave acts such as The Clash, Blondie, Patti Smith, and Elvis Costello.[9]
In developing the show Yacht Rock, creator J. D. Ryznar commented that the term was intended to describe the "more elite studio artists" of the period, such as Michael McDonald and Kenny Loggins.[10] David B. Lyons, who co-produced the show and played Koko Goldstein, noted that a friend of his devised the term "marina rock" in college to describe a more "working-class" group of artists that didn't achieve the same high profile, such as Seals and Crofts, Rupert Holmes, and Looking Glass.[11] However, despite the show's intentions, music journalists have begun using the term yacht rock to describe all of the similar-sounding music of the period, including bands such as Ambrosia, 10cc, Pablo Cruise, Firefall, England Dan & John Ford Coley, Orleans, Ace, and Player.[12]
While Ryznar and the show popularized the term "yacht rock," it's alleged to have existed previously, according to Wikipedia, which states its earliest-known appearance came in 1990 from Dave Larsen, popular music critic for the Dayton Daily News, describing an upcoming Jimmy Buffett concert in Cincinnati.
Artist Acknowledgment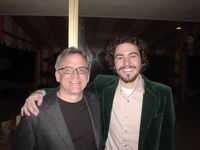 John Oates credited Yacht Rock in 2007 with rekindling interest in Hall & Oates and lowering the demographic age of the group's fans. He wrote:
I think Yacht Rock was the beginning of this whole Hall & Oates resurrection...They were the first ones to start to parody us and put us out there again, and a lot of things have happened because of Yacht Rock.[13]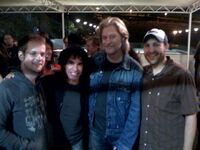 Michael McDonald acknowledged Yacht Rock in 2008:
Have you ever owned a yacht? No, but I thought Yacht Rock was hilarious. And uncannily, you know, those things always have a little bit of truth to them. It's kind of like when you get a letter from a stalker who's never met you. They somehow hit on something, and you have to admit they're pretty intuitive.
Okay. So what's the craziest thing you ever did with Kenny Loggins?


We mostly worked a lot when we would get together. Kenny, he's one of those guys who was a more serious artist; I was just a schlub. He was like, "C'mon, let's get this right," and I was like, "Got any beer?"[14]
Real people portrayed in Yacht Rock
Michael Anthony (referred to as 'the other guy' in Van Halen)

Jeff "Skunk" Baxter

Peter Cetera

Nate Dogg

Daryl Dragon

Dr. Dre

Donald Fagen

Glenn Frey

Don Henley

David Hungate

Michael Jackson

Steve Lukather

Jaye P. Morgan

John Oates

Jeff Porcaro

Harold Ramis

David Sanborn

Patrick Simmons

Toni Tennille

Dan Akroyd
Lindsey Buckingham
Episode & Song List
SPOILERS in the Episode Summaries!
1. "What a Fool Believes"
SCREENING DATE Sunday, June 26th - 2005
AUDIENCE SHARE 70.2% (1st at screening with 194 votes)
In the pilot episode, Kenny Loggins, under the guidance of Koko Goldstein, reaches out to a struggling Michael McDonald, who's having trouble writing a smooth hit for his band the Doobie Brothers.
Michael McDonald-Sweet Freedom
George Benson-Breezin'
Loggins & Messina-Sailin the wind
Kenny Loggins-Whenever I call You Friend
Doobie Brothers-What a Fool Believes
Doobie Brothers-Sweet Feelin'
Doobie Brothers-You Never Change
Hall and Oates-Alley Katz
Kenny Loggins - What a fool Believes
2. "Keep the Fire"
SCREENING DATE Sunday, July 24th - 2005
AUDIENCE SHARE 95.0% (1st at screening with 233 votes)
Loggins and McDonald pair up against the duo Hall & Oates for a songwriting competition. Koko is accidentally impaled by his lucky harpoon during the ensuing melee, but is at peace before his death by hearing the smoothest song ever sung by a young Christopher Cross.
Michael McDonald-Sweet Freedom
Steely Dan: Peg
Doobie Brothers - What a fool believes
Hall and Oates-Sara Smile
Hall and Oates-Portable Radio
Kenny Loggins-This is It
Kenny Loggins-Love has come of age
Christopher Cross-Sailing
3. "I'm Alright"
SCREENING DATE Sunday, August 28th - 2005
AUDIENCE SHARE 68.9% (2nd at screening with 234 votes)
As everyone grieves Koko's death, Loggins lashes out at McDonald and "smooth music" as a whole, causing a rift between the two. An entertainment executive behind the movie Caddyshack demands that the movie's director, Harold Ramis, obtain Loggins' talents to write the movie's theme song. Ramis takes advantage of an angry and confused Loggins and gets him to write and record the hard rock song "I'm Alright" much to McDonald's dismay.
Michael McDonald-Sweet Freedom
Bad Caddyshack Theme - Rick Johnson
Steely Dan-King of the World
Kenny Loggins- This is it (Live)
Steely Dan-Time Out of Mind
Kenny Loggins - Keep the Fire
Doobie Brothers-How do the Fools Survive
Journey - Lights
Journey - Anyway you want it
Steely Dan - Kid Charlamagne
Kenny Loggins-I'm Alright
4. "Rosanna"
SCREENING DATE Sunday, September 25th - 2005
AUDIENCE SHARE 87.7% (1st at screening with 274 votes)
Steve Porcaro (Steve Agee), the keyboard player of the band Toto, is asked by his girlfriend, Rosanna Arquette, to write a song about her, and she wants him to have Michael McDonald sing on the track. Discouraged by McDonald's disdain for his band, Porcaro devises a three-step plan to make it happen.
Something by Benetictine Monks
Michael McDonald-Sweet Freedom
Toto-Hold the Line
Toto-I Won't Hold You Back
Toto-Make Believe
Doobie Brothers - What a Fool Believes
Doobie Brothers - You Never Change
Christopher Cross-Ride the Wind
Loggins & Messina - Sailing the wind
Kenny Loggins/Steve Perry-Don't Fight it
Michael McDonald-Love Lies
Toto-I'll supply the Love
Toto-Rosanna
5. "Believe in It"
SCREENING DATE Sunday, October 30th - 2005
AUDIENCE SHARE 78.6% (1st at screening with 268 votes)
Toto has been commissioned to write a smooth song for Michael Jackson's Thriller, but Jackson rejects the band, believing after working with Eddie Van Halen on Beat It that such material is in his past. Fearing that Jackson will destroy "smooth music" for a decade, Porcaro turns to McDonald, Loggins, Skunk Baxter, Cross, and Vincent Price (James Adomian), to summon up Koko's ghost for help writing Human Nature.
Samuel Barber- Adagio for Strings
Michael McDonald-Sweet Freedom
Michael McDonald - Believe in It
Michael Jackson - Beat it
Michael Jackson - Thriller
Kenny Loggins - I Gotta Try
Michael McDonald - I Gotta Try
Christopher Cross - Sailing
Kenny Loggins - This is it
Van Halen - Eruption
Michael Jackson - Human Nature
6. "The Seed Drill"
SCREENING DATE Sunday, January 29th - 2006
AUDIENCE SHARE 62.1% (2nd at screening with 315 votes)
"Hollywood" Steve's father demands that Steve stop wasting his time on Yacht Rock, and regales a historic tale of Jethro Tull, which is very similar to episode one.
Michael McDonald - Sweet Freedom
Jethro Tull - Velvet Green
Jethro Tull - Thick as a Brick
Jethro Tull - Witch's Promise
Jethro Tull - Flute Solo (Live)
Jethro Tull - Aqualung
Jethro Tull - Teacher
Jethro Tull - Jack-In-The-Green
Jethro Tull - Cold Wind to Vallhalla
Jethro Tull - Too Old to Rock and Roll, Too Young to Die
Jethro Tull - Living in the Past
Jethro Tull - Reasons for Wait
Jethro Tull - The Whistler
7. "I Keep Forgettin'"
SCREENING DATE Sunday, February 26th - 2006
AUDIENCE SHARE 89.1% (1st at screening with 318 votes)
McDonald and Loggins make a bet about McDonald's new song, "I Keep Forgettin' (Every Time You're Near)", that takes a decade to resolve. Ten years later, Long Beach-based rappers Warren G and Nate Dogg struggle with creating smooth rap (yacht rap), and only when they kidnap McDonald, is there a solution to everyone's problems.
Michael McDonald - Sweet Freedom
Michael McDonald - I Keep Forgetting
Kenny Loggins - Swear Your Love
Michael McDonald - Love Lies
Dr. Dre - Nothin' but a G Thang
Dr. Dre - Dre Day
Snoop Doggy Dogg - G's and Hustlaz
Dr. Dre - Let Me Ride
Christoper Cross - Words of Wisdom
Snoop Doggy Dogg - Who am I (What's My Name?)
Doobie Brothers - What a Food Believes
Warren G - Regulate
8. "Gino (the Manager)"
SCREENING DATE Sunday, March 26th - 2006
AUDIENCE SHARE 70.9% (2nd at screening with 251 votes)
"Hollywood" Steve returns to the very beginning, where Doobie Brothers producer Ted Templeman explains his dream about the origin of "the smoothest rock [he's] ever heard" to Skunk Baxter over lunch. Baxter suggests seeing Koko about it, and Templeman starts seeing his dream come into fruition as he meets a young McDonald, then a background singer for Steely Dan, being talked into joining the Doobie Brothers by Steely Dan and Koko, Loggins showing signs of his imminent break from Messina and solo stardom, and an effeminate Hall and Oates with a very familiar looking manager named Gino, who tries to bully McDonald and Loggins into employing him as a manager. When they refuse, he plots revenge.
Michael McDonald - Sweet Freedom
Steely Dan - Your Gold Teeth II
Doobie Brothers - Takin It to the Streets
Hall & Oates - Gino (The Manager)
Captain & Tennille - Love Will Keep Us Together
Steely Dan - Any World (That I'm Welcomed To)
Loggins & Messina - Watching the River Run
Loggins & Messina - Your Mama Don't Dance
Kenny Loggins - Love Has Come of Age
Kenny Loggins - Danger Zone
SCREENING DATE Sunday, May 28th - 2006
AUDIENCE SHARE 66.9% (4th at screening with 216 votes)
Van Halen puts a curse on Ted Templeman to force him to produce their hard rock song. In a subplot, Loggins loses his car keys and has everyone in the studio helping him look. Comedian Drew Carey makes a cameo appearance.
Presidents of the United States of America "Cleveland Rocks"

Limewire tricked JD into thinking this was a Cheap Trick song. The original version was from an Ian Hunter (Mott the Hoople) solo album. The one used in the Drew Carey Show was the Presidents of the USA version. His intention for Yacht Rock was to use the classic version, but he messed up. NEVER trust Limewire. Buy your music from the store.

Michael McDonald "Sweet Freedom"
Kenny Loggins "Only a Miracle"
Van Halen "Atomic Punk"
Van Halen "Runnin' with the Devil"
Doobie Brothers "Echoes of Love"
Van Halen "I'm The One"
Michael McDonald "Playin by the Rules"
10. "FM"
SCREENING DATE Sunday, June 25th - 2006
AUDIENCE SHARE 44.4% (7th at screening with 155 votes)
Steely Dan and the Eagles settle a long-time, childish feud with a hit song.
Tori Amos - "Winter"
Michael MacDonald - "Sweet Freedom"
Kenny Loggins - "I Believe In Love"
Eagles - "Life In The Fast Lane"
Steely Dan- "Everything You Did"
Steely Dan - "Do It Again"
Steely Dan - "Peg"
The Eagles - "Hotel California"
Steely Dan - "FM"
Kenny Loggins - "Danger Zone"
11. "Footloose"
SCREENING DATE Sunday, January 27th - 2008
Jimmy Buffett is convinced by Kevin Bacon and Gene Balboa to trick Loggins into making yet another movie song. He is subsequently kidnapped by Buffett and psychotic "Parrot Heads" and its up to McDonald and James Ingram to rescue him. Jason Lee makes a guest appearance as Bacon.
Cheeseburger in Paradise - Jimmy Buffet
I Need a Hero - Bonnie Tyler
If it's Not What You're Looking For - Kenny Loggins
Yah Mo Be There - James Ingram & Michael McDonald
Margaritaville - Jimmy Buffett
Changes in Latitude - Jimmy Buffett
I'm Free (Heaven Helps the Man) - Kenny Loggins
There's No Easy Way to Break Someone's Heart - James Ingram
Pencil Thin Mustache - Jimmy Buffett
Why Don't We Get Drunk - Jimmy Buffett
Footloose - Kenny Loggins
Boat Drinks - Jimmy Buffett
Danger Zone - Kenny Loggins
12. "Dangerzone"
Premiered at the Bell House in Brooklyn, New York. Screened at Channel 101 April 24th.
Kenny Loggins and Michael McDonald must fight Hall and Oates to destroy a Black Hole with Smooth Music.
Sweet Freedom - Michael McDonald
* No Lookin' Back - Kenny Loggins
* Chase - Giorgio Moroder
* No Lookin' Back - Michael McDonald
* We are the World - USA for Africa
* Adult Education - Hall & Oates
* Charm The Snake - Christopher Cross
* Out of Touch - Hall & Oates
* From Here to eternity - Giorgio Moroder
* Danger Zone - Kenny Loggins
* Playing With The Boys - Kenny Loggins
* Method of Modern Love - Hall & Oates
* Sailing - Christopher Cross
Best Episode
Production
When asked by Will Hines on the Channel 101:NY forums about how good the production and editing values were on Yacht Rock, Ryznar replied:
"Its just the blessing of living in LA. I work for a company who lets us borrow their 24p and the office itself on the weekend. My next door neighbor is an editor. In LA, EVERYONE's next door neighbor is an editor, although I'm one of the few creators that doesnt do his own editing. Plus channel 101 is just an amazing wealth of acting talent. Yet, everyone is a writer... but everyone can act. Its weird and awesome. The studio is courtesy of Ryan Elder who emailed me after the first Yacht Rock and said "I'm a fan of Yacht Rock. I work at a recording studio wink wink." Its amazing. Someone on Yacht Rock is working on a big movie (MI:3) so we used this huge HOLLYWOOD BLOCKBUSTER greenscreen that they had THROWN AWAY (it was 20 by 20 and scraped!) to shoot the Koko ghost stuff, which we set up in the DV room of my office, lit with the company's lights, etc, etc.
Everyone loves making movies here, and not everyone wants to be in front of the camera or behind a typewriter. Some people just like to work on projects that actually get finished. This town is awesome.
We shot two days on this one, each about 6 hour days. I'm not sure how long the editing took. Lane picks at it here and there while he works on other things. Then I come in after the rough cut and we tighten the shit out of it, usually about 2 4-6 hour sessions with him gets it done.
But really, the secret is the Panasonic dvx100a camera. They're coming out with new models now, so maybe the older, but still awesome, ones will get cheaper. I want to own one soon. Fingers crossed."
-JD Ryznar.
Fun Facts
Became the second show to make it a year, after The 'Bu, (June to May) with 3 months off. Only to be canceled the next show.
See also
External links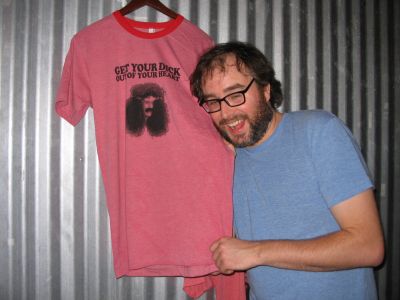 References