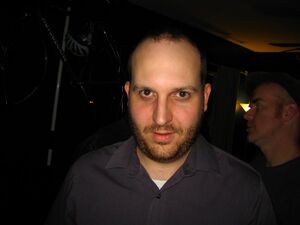 Awesome" WADE RANDOLPH hails from the town of Loveland, Colorado. He's been in Los Angeles for eight years, and has been divorced once. His failed marriage was born out of necessity, along with a bouncing baby girl, Tiffany Heather Randolph. After Tiffany was killed by a drunk driver, a grieving Wade and his un-named bride decided to halt the charade, and call a "do over" on their wedding vows. Wade's ex-wife now lives in New Orleans, and we're pretty sure she's okay, after that whole hurricane business, but Wade "doesn't really keep in touch with her, anymore. Not since that day, that horrible day when they took my baby away". Wade will be turning 27 in November, and he's wishing for a pony. He believes that his allergies to horse dander will subside if he's exposed to it constantly. Good luck, Wade.
He is a writer for Rick and Morty.
Blog
Loading RSS data...
Links
Community content is available under
CC-BY-SA
unless otherwise noted.