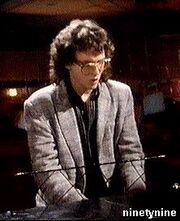 Steven Maxwell "Steve" Porcaro (born September 2, 1957, Hartford, Connecticut) is an American keyboardist and composer, who was an original member of the rock/pop band, Toto. He is portrayed by Steve Agee in Yacht Rock.
Porcaro wrote the song "Takin' It Back" for Toto's first album, and the song was released as a single together with the hit, "Hold The Line". He also wrote "It's A Feeling" for Toto IV and "Lea" for Fahrenheit. He left Toto in 1986 after the Fahrenheit album in order to pursue a more full-time songwriting and composing career. Porcaro composed the music for the song "Human Nature" from Michael Jackson's album Thriller. Porcaro also played with Gary Wright during his tour in 1977, supporting the latter's The Dream Weaver album.
However, Porcaro has continued working with Toto in various supporting capacities, assisting with keyboards, drum looping, synthesizers and arranging/composing. He has also done session musician work for many other acts, including Yes (on Union) and Jefferson Airplane (on their self-titled 1989 reunion album). Porcaro was also a member of Chris Squire's short lived band, The Chris Squire Experiment, in 1992.
His brother, Mike Porcaro, is Toto's bass player. In addition Steve's late brother, Jeff Porcaro, was Toto's co-founder and drummer from 1977 until his death on August 5, 1992.
"Rosanna", Toto's 1982 Grammy Award winning single, was written for him by the band's primary songwriter, David Paich. Porcaro is currently working on film scores such as the one for Montana Sky, and is credited as an additional keyboardist on Toto's Falling in Between (2006).
External links
Community content is available under
CC-BY-SA
unless otherwise noted.