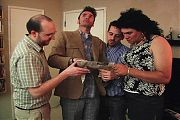 Created by Eric Acosta, Wade Randolph, Willy Roberts, Kyle Reiter and Dan Murrell.
Summary
"The Most Retarded 3 Minutes Ever Filmed" says co-creator Kyle Reiter. Seinfelnd cannot be described, only experienced.
"Seinfelnd" was made in one Friday night. Editing was delayed for weeks after the co-creators agreed the footage probably wasn't useable. (Allegedly, the David-Lynch style ending was mostly improvised and was devised after the creators couldn't think of a better way to end the show. Wade Randolph disputes this.)
The early favorite to win the Best Failed Pilot at the 2009 LA Channy Awards, but lost to Turdy Longbows. Had a campaign and all.
External Links
This template is outdated due to the redesign of Channel101.com. If you see this, please replace this with an updated link to the person's 101 LA talent page.