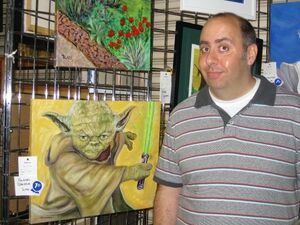 Scott was raised in the wild by a loving and caring father figure named Tabu. Tabu was a coyote. And a shaman. And imaginary.
He can be seen occasionally on TV's Jimmy Kimmel Live on ABC, Tom Goes to the Mayor on Adult Swim, and numerous national commercials for such amazing corportate entities as T-Mobile, IHOP, KFC, and other acronyms. He appears in the film Laura Smiles, which debuted at 2005's Tribeca Film Festival, and as a demon newscaster in The Hell O'Clock News, an online series at tenaciousdmovie.com which will appear on the DVD for Tenacious D's movie, The Pick of Destiny.
A former writer for MTV's Big Urban Myth Show, Scott started his showbiz career as a member of the Groundlings Sunday Company, and he's since gone on to perform improv and sketch comedy all over L.A., most recently with ComedySportz, the Fucking Bastards, The Richard Simmons Mysteries, and Trapped in the Closet - Live. On Channel 101, Scott can also be seen in such seminal series as Wastelander, Yacht Rock, House of Cosbys, Kicked in the Nuts, Laser Fart, The Call of Echo Mountain, Twigger's Holiday,Channel 101: The Musical, and many more, including The Fastest Samurai in the West, which he also co-wrote.
In a former life, Scott was an editor and writer for Lucasfilm's official Star Wars magazine, Star Wars Insider, and other dorky publications, as well as an official Star Wars book. Scott loves Three's Company.
He is currently writing for The Tonight Show with Conan O'Brien.
Links
This template is outdated due to the redesign of Channel101.com. If you see this, please replace this with an updated link to the person's 101 LA talent page.
His website with comedy partner Andy Goldblatt.