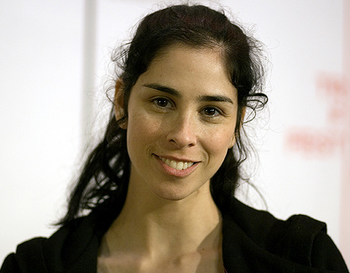 Sarah Silverman (born December 1, 1970) is an American comedienne, writer, actress, singer, and musician. Although usually credited as Sarah Silverman, she is sometimes credited by her nickname, Big S. Her satirical comedy addresses social taboos and controversial topics such as racism, sexism, and religion.
She often performs her act as a caricature of a Jewish-American princess, mocking bigotry and stereotypes of ethnic groups and religious denominations, by endorsing them in an ironic fashion. Silverman was first noticed as a writer and occasional performer on Saturday Night Live. She starred in and produced The Sarah Silverman Program, created by her, Rob Schrab and Dan Harmon, which debuted February 1, 2007, on Comedy Central.
She has appeared in the Channel 101 shows MESI, Channel 101: The Musical and Everything.
She is the sister of Laura Silverman.
Early life
Sarah Silverman, the youngest of four daughters, was born in Bedford, New Hampshire. Her mother, Beth Ann Halpin, was George McGovern's personal campaign photographer and founded the theater company New Thalian Players.[1] Her father, Donald Silverman, was a social worker by training who ran the discount clothing store Crazy Sophie's Outlet. Her family is Jewish, the descendants of immigrants from Russia, Poland and Scotland.
She appeared in community theater at age twelve, also starring on a local television show in the Boston area called Community Auditions at age 15. She attended the The Derryfield School in Manchester, New Hampshire. At seventeen, she performed stand-up comedy in a restaurant, singing a song she called "Mammaries." She then attended New York University and continued her stand-up in Greenwich Village.[2][3][4][5]
Starting her acting career on Saturday Night Live (including episodes hosted by Patrick Stewart and Kelsey Grammer), with fellow Voyager guest star Michael McKean as a castmate for the latter half of the year, she has since made guest appearances in Crank Yankers, Drawn Together, Futurama, Frasier (with Kelsey Grammer), JAG (as the assistant of a character played by Gary Graham), and Monk (with Billy Burke, Nicole Forester, and Stanley Kamel). She has also made movie appearances in The Bachelor, Say It Isn't So, Heartbreakers, The Aristocrats and Sarah Silverman:Jesus is Magic.
Sarah starred in the Fox Network's short lived 2000 comedy television series Greg the Bunny (with Bob Gunton).
She starred with Stephen Yoakam, Larry Drake and Bruce Bohne in the 1998 movie Overnight Delivery.
In 2007 she hosted the 2007 MTV Movie Awards. In an brief interview with Entertainment Weekly as a leadup to the MTVMA's, she was asked: "You guest-starred on two episodes of Star Trek: Voyager. What's one misconception about Trekkies that needs clearing up?" Her response was, "Oooh! This is totally true! Since I did that in 1996, one thing I learned about sci-fi nerds is the majority — and you're not going to believe this because it's not portrayed that way in movies — are black. More black people than white people recognize me from Star Trek. Black people love sci-fi. That's a serious fun fact. You're welcome."[6]
Channel 101 Filmography
Other Filmography
Feature Films:
Who's the Caboose? (1997)
Overnight Delivery (1998)
Bulworth (1998)
There's Something About Mary (1998)
The Bachelor (1999)
What Planet Are You From? (2000)
Screwed (2000)
The Way of the Gun (2000)
Black Days (2001)
Say It Isn't So (2001)
Heartbreakers (2001)
Evolution (2001)
Run Ronnie Run (2002)
School of Rock (2003)
Hair High (2004) (voice)
Non-Channel 101 Shorts:
Strippers Pole (2002)
Nobody's Perfect (2004)
Supermarket (2004)
Give The Jew Girl Toys (satirical music video)
Confetti
Television Work:
Community Auditions (1985)
Saturday Night Live (writer and cast member, 1993–1994)
Mr. Show (featured performer, 1995)
The Larry Sanders Show (1994-1996)
Star Trek Voyager ("Future's End", two episode arc, 1996)
Seinfeld ("The Money", 1997)
Dr. Katz, Professional Therapist (voice as herself, "Alderman", 1998)
Smog (unsold pilot, 1999)
Late Last Night (1999)
Futurama ("The Cryonic Woman", 2000; "Futurama: Bender's Big Score", 2007)
Super Nerds (unsold pilot, 2000)
Rocky Times (unsold pilot, 2000)
Greg the Bunny (2002–2004)
Crank Yankers (voice, 2002-2007)
Frasier (Jane, "Maris Returns", 2003)
Pilot Season (miniseries, 2004)
Entourage (herself, 2004)
Aqua Teen Hunger Force ("Robositter", 2004, credited as Big S)
Drawn Together ("The Other Cousin", episode 1.5, 2004, Cousin Bleh)
Monk (Mr. Monk and The T.V Star, 2004)
American Dad! ("Stan Knows Best", 2005, voice)
Tom Goes to the Mayor ("Pipe Camp", episode 11, 2005)
Celebrity Poker Showdown (twice, 2003-2004)
Comic Relief (stand-up segment 2006)
Monk (Mr. Monk's Biggest Fan, 2007)
The Andy Milonakis Show (herself, 2007)
The Sarah Silverman Program (2007-present)
Monk ("Mr. Monk's 100TH Case", 2008)
8 out of 10 cats ("Herself", 2008)
Friday Night with Jonathan Ross ("Herself", 2008)
JAG (Blind Side "Lt. Schiparelli", 1997)
The Comedy Central Roast of Bob Saget (2008) (pre-recorded video message)
See Also
External Links
This template is outdated due to the redesign of Channel101.com. If you see this, please replace this with an updated link to the person's 101 LA talent page.
Sarah Silverman's Guest DJ Project on KCRW KCRW Guest DJ set
Sarah Silverman questionnaire November 2007
References