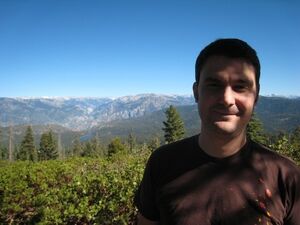 I got a degree in music composition from a non-music school. In 2001 I did an internship for a company that does music for commercials called Emoto Music. They brought me on as a junior composer. I stayed there for 13 years (still work with them all the time.) In 2005, for fun, my wife and I attended a Channel 101 screening which happened to be the first House of Cosbys. I was absolutely enamored with Justin's creativity and the entire 101 thing so I offered up my services to anyone who was interested. At one point Justin needed some music for a little 101 pilot called "The Real Adventures of Doc and Mharti" so I whipped up some cues for him. Later we worked together on Mr. Sprinkles and many other things.
Losting Bio: RYAN ELDER was born in Minneapolis MN, raised in St. Paul MN and will die in bed, like in that movie Big Fish but without the annoying son. Birthed directly into a snowbank, the afterbirth freezing nearly immediately to his face, Ryan's love for music flowered early. Violin at age 5, guitar at age 12, piano at age 18, turntables at age 25, he discarded them all in the hopes of finding an instrument he'd actually be able to play. All this failure to practice netted Ryan a job writing the nation's favorite jingles. Although he has no desire to teach the world to sing, Ryan is quite excited to be a part of the Losting crew.
Community content is available under
CC-BY-SA
unless otherwise noted.