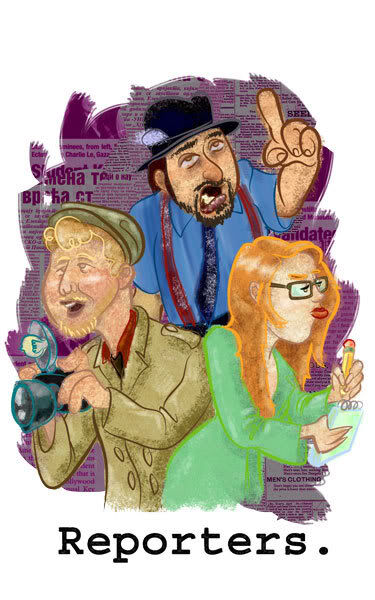 Not related to Reporters: A Show
Created by Kelsy Abbott, Justin Roiland and Vatche Panos.
Summary
When asked to say a few words about Reporters, Justin Roiland replied, "It's a modern tale and struggle of... uhm... I dunno. A fantastic epic following the struggles of two well-meaning newspaper reporters and their out-of-the-ordinary boss." He then left the room and returned moments later to add: "A.K.A. a slapdash turd of a Channel 101 show." This insane attempt from Roiland, Vatche Panos, and Kelsy Abbott charmed audiences just enough in January of 2007 to fill the Prime Time void left by the Phone Sexxers self-cancellation. Even later, Justin returned to add that "Reporters is the only Channel 101 show that has AIDS. You should put that."
Screening Info
First Screening: Sunday, January 28th - 2007
Last Screening: Sunday, June 24th - 2007
Last Audience Share: 28.2% (7th at screening with 75 votes)