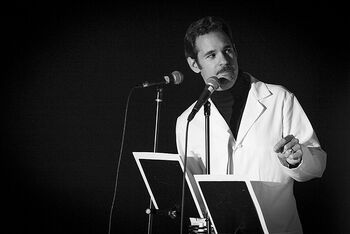 Paul F. Tompkins is a prolific comedian, appearing on the Dead Authors podcast, Comedy Bang Bang, Superego and other venues. 
P.F. Tompkins appears in Tenacious D: Time Fixers, It's Twissleton and Sunday Detective Film Theatre. He got involved with the latter short as he knew Eric Hoffman, who wrote and starred in that short. Principal Overmind was written specifically for him. Originally Hoffman was thinking of having Paul's Jack Cassidy be the guest villain in all the Detective Theatres - but one has to temper their Cassidy tributes, he decided.
He appeared in Community as a man hitting on Abed.