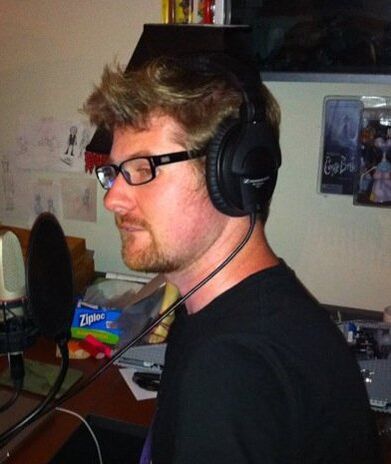 Amy Roiland's brother.
Justin Roiland grew up in Manteca, California where he created a comic book called Comicsacrifice. The name was adopted because he would create a character and then sacrifice them by killing them.
He is very quiet and observant. He only speaks when spoken to, and respectfully does what he is told. He looks around him and gathers information and uses that information to execute things and make things as good as they can be. He is always very tired because he has sleep apnea.
He was a member of Comic Sacrifice. Justin has been a staple of Channel 101, and was involved in Acceptable.TV. He also has a recurring role on The Sarah Silverman Program.
He created the Channel 101 show, "House of Cosbys", singing the theme and doing the voices of Curiosity Cosby, Data Analysis Cosby and Preacher Cosby. The show was cancelled due to a cease and desist letter from Bill Cosby's lawyer which led to the creation of the Channel 101 short "The Real Animated Adventures of Doc and Mharti", making fun of the idea of cease and desist letters.
He is doing the voice of Oscar on the Disney Channel show "Fish Hooks". He is one of the three members of the Grandma's Virginity podcast.
Justin Roiland now voices Lemongrab on Adventure Time, Blendin Blandin on Gravity Falls, and has co-created the Adult Swim show Rick and Morty with Dan Harmon, which also has several other 101 alumni on staff. 
External Links