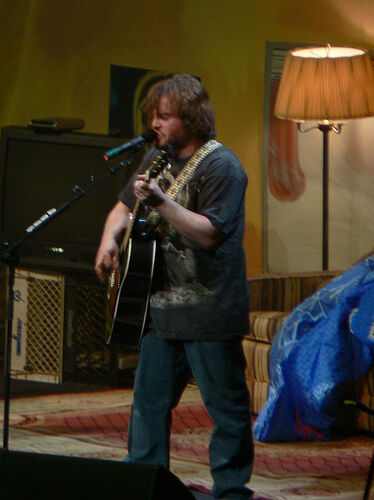 Jack was on screen in the very first Channel 101 screening in June of 2003, and, along with Dan Harmon, whom he met filming Heat Vision and Jack helmed 101's very first #1 show, Computerman. Following its cancellation, he returned to guest star in the second episode of Laser Fart, and also co-hosted the Channel 101 pilot for the FX network and later Acceptable.TV. In his spare time, he acts in movies and plays guitar.
Thomas Jacob "Jack" Black (born August 28, 1969) is an American actor, comedian, and musician. He makes up one half of the comedy and heavy metal music duo Tenacious D. The group has two albums and a full-length film. His acting career is extensive, starring primarily as bumbling, cocky, but internally self-conscious outsiders in comedy films. He is a member of the Frat Pack, a group of comedians who have appeared together in several Hollywood films, and has been nominated for a Golden Globe award. He has also won an MTV Movie Award, and a Nickelodeon Kids Choice Award.
Links
This template is outdated due to the redesign of Channel101.com. If you see this, please replace this with an updated link to the person's 101 LA talent page.