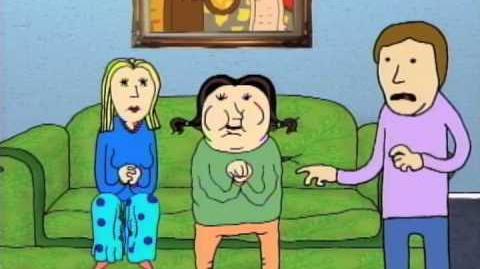 Created by Justin Roiland, Sevan Najarian and Abed Gheith.
Summary
The creators of "Friends and Lovers" return, this time coupling their trademark absurdity with a coherent story and likeable characters. Not to mention the amount of work that has to go into a Channel 101 animated show. This one could have been a real juggernaut, but my feeling is that it suffered from the sometimes unpredictable effects of maximum audio volume in Cinespace's theatre. Some of the dialogue was hard to catch at the screening- which is not the case at all on your computer, so enjoy.
It's Twissleton was the sophmore attempt at a Channel 101 pilot for the Comic Sacrifice team. This is back when Justin Roiland did all of the art. Sevan Najarian helped assemble and color the material and in turn made it all move in After Effects.
Abed Gheith and Justin Roiland collaborated together on this script. The two also voice all of the various characters except the voice of Admiral Telemachus, voiced by Paul F. Tompkins.
A second episode has been written, and recorded but not animated. There's a rumor that it will one day make itself out of the blue.
Screening Info

SCREENING DATE

Monday, March 29th - 2004

AUDIENCE SHARE 27.4% (7th at screening with 71 votes)
CAST
Peter ... Justin Roiland
Susan ... Justin Roiland
Lucy ... Abed Gheith
Edmond ... Abed Gheith
Commander Sparks ... Paul F. Tompkins
Admiral Telemachus ... Justin Roiland
CREW
Director ... Justin Roiland, Sevan Najarian
Writer ... Justin Roiland
Producer ... Justin Roiland
Music Composition ...

Nick Haas

,

Matias Drago

Music Vocals ... Nick Haas, Matias Drago
Editor ... Sevan Najarian
Animator ... Sevan Najarian
Illustrator ... Justin Roiland
Links
This template is outdated due to the redesign of Channel101.com. If you see this, please add an updated URL for the show's page.