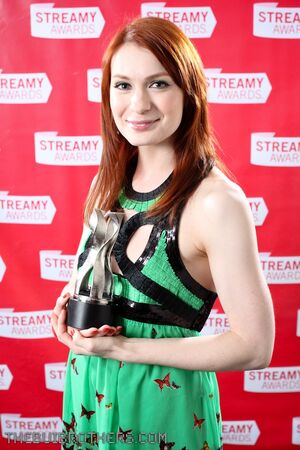 Kathryn Felicia Day[1] (born June 28, 1979 in Huntsville, Alabama) (born June 28, 1979 in Huntsville, Alabama) is an American actress, known for her work as "Vi" on TV series Buffy the Vampire Slayer and for parts in movies such as Bring It On Again and June, as well as the Internet musical Dr. Horrible's Sing-Along Blog. She is also the star, script writer and producer of the originally YouTube-based web series The Guild, which won the Greenlight Award for Best Original Digital Series Production at the South by Southwest festivals,[2] the YouTube Video Award for Best Series,[3] the Yahoo! Video Award for Best Series, [4] and 2009 Streamy Awards for Best Comedy Web Series, Best Female Actor in a Comedy Web Series, and Best Ensemble Cast in a Web Series [5] In September 2008, TV Week included her in their list of Top 10 Web Video Creators.[6]
She appeared in Blood Oath of Three Men and a Baby with future Guild co-actor Sandeep Parikh.
Personal life
Her father was a United States Air Force doctor. Day was home-schooled throughout her childhood and teenage years as her family moved from place to place throughout the South.She has one brother, Ryon Day, who is currently a software engineer.
Day's acting career began at the age of 7 when she starred as Scout in a local production of To Kill a Mockingbird. Day has also studied ballet professionally and has performed at concerts and competitions nationwide. She is also an accomplished violinist.
Education
Going straight from home-schooling to college at an early age, Day chose to double major in mathematics and violin performance at the University of Texas at Austin,[7][8] despite having been accepted to the Juilliard School of Music. She graduated with the highest honors, having a 4.0 GPA. She was also the student speaker at her department's convocation. Day was a National Merit Scholar in 1995.[9]
Career
After graduation, Day moved to Los Angeles to pursue a career in acting. She landed several roles in various short and independent films, as well as commercials and guest spots on television shows, including Undeclared and Maybe It's Me. These parts propelled her to larger roles: a part in the film Bring It On Again, the starring role in June, and a recurring guest spot as potential Slayer Vi on television's Buffy the Vampire Slayer, a recurring role that is still occasionally utilized in that show's eighth season comic book series.
She is the creator, writer, and star of The Guild, a web series which has finished and just aired its third season. The first season was primarily hosted on YouTube where it garnered millions of views.[10] Its second season premiered on Microsoft's three major video channels Xbox Live, MSN Video and The Zune Marketplace after Microsoft made a deal with The Guild, allowing Day, her cast, and her crew to receive financial remuneration for their work. Day also created a song and music video called "(Do You Wanna Date My) Avatar", featuring the cast dressed up as their in-game personae. The final moments of the music video itself also detailed that the release date for the 3rd season of Day's The Guild would be August 25, 2009. Day also stars in Guild co-star Sandeep Parikh's web-series The Legend of Neil, in which she portrays a Fairy. She sings in the second season musical episode, in which she obliquely references her history of internet musicals.
In July 2008, Day starred as Penny in the three-part web based musical Dr. Horrible's Sing-Along Blog (created by Joss Whedon, who also created Buffy the Vampire Slayer).[11]
Day was featured as a patient in the episode "Not Cancer" of the medical drama House,[12] and had a guest starring role in the sci-fi drama Dollhouse's unaired episode "Epitaph One".[13] Most recently, Day was featured in a series of commercials for Sears,[3] as well as in the first of the revitalized Cheetos commercials[14]. According to Joss Whedon at Comic-Con International in July 2009, she will be returning to Dollhouse during the show's second season, reprising the role that she portrayed in the episode "Epitaph One".
Awards
During the inaugural Streamy Awards held in Los Angeles on March 28, 2009, Day received the award for the "Best Female Actor in a Comedy" for her work in The Guild. She was also recognized for her work on Dr. Horrible's Sing-Along Blog.
Filmography
Year
Title
Role
Notes
2000
Delusional
???
unknown part
2001
Strings
???
unknown part
2002
They Shoot Divas, Don't They?
Call Girl
TV movie/Supporting Lead
House Blend
Pam
TV movie
2003
Backslide
Maddie
2004
The Mortician's Hobby
Tiffany
Bring It On Again
Penelope
June
June Marie Jacobs
TV movie/Lead
Final Sale
Felicia
Lead
2005
Mystery Woman: Vision of a Murder
Emily
TV movie/Lead
Warm Springs
Eloise Hutchinson
TV movie/Supporting Lead
Short Story Time
Felicia
2006
God's Waiting List
Trixie
2007
Splitting Hairs
Sugar Girl
2008
Prairie Fever
Blue
Dear Me
Pipsy
Lead
TV Series/Internet productions
Notes and references
↑ Felicia's College Resume, Archive of "utexas.edu/~felicia/personal.html"
↑ Press Release. "The Guild And "Knock Off" Take Top Honors At The Greenlight Awards", ON Networks Inc. March 11, 2008. Accessed Nov 05, 2008.
↑ 2007 Youtube Video Awards, List of 2007 Winners. (Accessed Nov 05, 2008)
↑ "The Yahoo! Video Awards: The Results!", Yahoo Video Blog. March 21, 2008. (Accessed Nov 05, 2008)
↑ "Poised to Leap". (2008, September). TelevisionWeek, 27(23), 1,25–26. Retrieved November 5, 2008, from ABI/INFORM Global database. (Document ID: 1570740411).
↑ Trapani, Gina."How Dr. Horrible's Felicia Day Gets Things Done", LifeHacker. August 4, 2008.
↑ http://majornelson.com/archive/2009/01/25/show-306-felicia-day-re5-and-enforcement-on-xbox-live.aspx
↑ Daisy Whitney (2008, March). "Popular but Not Profitable". TelevisionWeek, 27(8), 3,28. Retrieved November 5, 2008, from ABI/INFORM Global database. (Document ID: 1454502881).
↑ House Episode 5.02 - Not Cancer - Press Release, FoxFlash. September 23, 2008. (Accessed Nov 05, 2008)
↑ YouTube of Cheetos Commercial, November 26, 2008.
External links
Community content is available under
CC-BY-SA
unless otherwise noted.