Line 1:
Line 1:
 

[[File:DeMorge.jpg|300px|right]]

 

[[File:DeMorge.jpg|300px|right]]

−

DeMorge Brown was born in Texas, and raised in New York. Currently, he lives on a hilltop in the shadows of L.A.'s Dodger Stadium. He has written and acted with the Upright Citizens Brigade and The Groundlings. DeMorge can be seen in "Minor Accomplishments," "According to Jim" and "Punk'd." If you listen closely, you'll hear him mumbling in "Family Guy" and "American Dad." His love of horses and soccer has brought him to the cast of VH1's [[Acceptable.TV]].

+

DeMorge Brown was born in Texas, and raised in New York. Currently, he lives on a hilltop in the shadows of L.A.'s Dodger Stadium. He has written and acted with the Upright Citizens Brigade and The Groundlings. DeMorge can be seen in "Minor Accomplishments," "According to Jim" and "Punk'd." If you listen closely, you'll hear him mumbling in "Family Guy" and "American Dad." His love of horses and soccer brought him to the cast of VH1's [[Acceptable.TV]].

 
 
 

==Blog==

 

==Blog==

 

<rss>http://leitepreto.tumblr.com/rss|max=5</rss>

 

<rss>http://leitepreto.tumblr.com/rss|max=5</rss>

 
 
 
+

*[http://www.channel101.com/talent/69 Channel 101 Credits Page]

−

==Tweets==

 
−

<rss>http://twitter.com/statuses/user_timeline/52163143.rss|short</rss>

 
−

{{Stub}}

 
 

[[Category:DeMorge Brown]]

 

[[Category:DeMorge Brown]]

 

[[Category:Channel 101]]

 

[[Category:Channel 101]]
---
Revision as of 16:06, 27 February 2014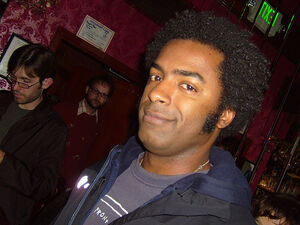 DeMorge Brown was born in Texas, and raised in New York. Currently, he lives on a hilltop in the shadows of L.A.'s Dodger Stadium. He has written and acted with the Upright Citizens Brigade and The Groundlings. DeMorge can be seen in "Minor Accomplishments," "According to Jim" and "Punk'd." If you listen closely, you'll hear him mumbling in "Family Guy" and "American Dad." His love of horses and soccer brought him to the cast of VH1's Acceptable.TV, and he has been a staple of Channel 101 since.
Blog
Community content is available under
CC-BY-SA
unless otherwise noted.