Chris Prine is an actor, writer, editor, musician, and director of Channel 101:NY shows. He is best known for being the most handsome individual in the Channel 101 NY community. He is a founding member of Escape Pod Films and has appeared prominently in Scissor Cop and Sandwich of Terror. He currently plays the title character in The Stryker Files.
Cast Info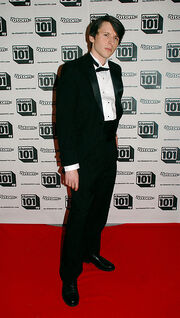 Trivia
Chris Prine is unusually allergic to shellfish. Whenever he eats shrimp, a stranger dies.
He voted illegally in the state of Indiana for Gene Amondson, chair of the Prohibition Party, in the 2008 presidential election.
His mustache in Scissor Cop is real, he wears a latex skin flap over his upper lip to cover 'The Beast' in public appearances.
Sometimes he all like 'mah' and we all like 'whaooo?'
Now out of print, the 2008 album 'Fearnini: Songs Inspired By Sandwich of Terror'  features Chris performing with Norah Jones, "Cafe Monte Cristo" and Siouxie Sioux "Club Wrap"
Successfully sued the L.A. Lakers for gender discrimination after his dismissal from the Laker Girls. Uses the settlement to finance his Channel 101 projects.
Growing up, Chris turned to magic to save his village from the yeti.
External Links
This template is outdated due to the redesign of Channel101.com. If you see this, please replace this with an updated link to the person's 101 LA talent page.