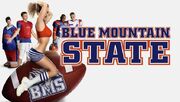 Blue Mountain State
is an comedy series airing on Spike TV. It is a takeoff of National Lampoon's Animal House and Van Wilder focusing on the football-centric university of Blue Mountain State and its rather awkward team "The Goats". It cover topics of college life, including football, scoring with women, drinking binges, wild partying and fraternity hazing. Its producers include
Chris Romano
and
Eric Falconer
of It's Always Sunny in Philadelphia,
Channel 101
and
The Sarah Silverman Program
.
JD Ryznar
and
Drew Hancock
also write for the series. It is produced by Lionsgate Television.
Characters
Coach Marty Daniels (Ed Marinaro): the head coach of "The Goats".
Alex Moran (Darin Brooks): a college freshman and talent quarterback who is more preoccupied with partying than practicing.
Sammy Cacciatore (Chris Romano): Alex's best friend who dresses as the team's mascot "The Goat".
Craig Shilo (Sam Jones III): the star runningback of "The Goats" who is friendly, he is "whipped" by his girlfriend Denise.
Denise Roy (Gabrielle Dennis): Craig's controlling and possessive girlfriend she is very smart and popular and has big ambitions for herself and Craig.
Thad Castle (Alan Ritchson): Thad is the obnoxious team captain of The Goats who enjoys bullying the other teammates and represents all the negative qualities of a jock.
Links
Community content is available under
CC-BY-SA
unless otherwise noted.