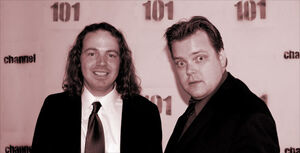 Matt Sloan and Aaron Yonda of Blame Society Productions are best known for their video series Chad Vader, a viral internet sensation that has received over 25 million internet downloads and counting (view it on YouTube). Chad Vader has won over a dozen film festival awards, including the "George Lucas Selects" award from the 2007 Star Wars Fan Movie Challenge. The series has been written about in the New York Times, Wall Street Journal, USA Today, TV Week Magazine, Chicago Sun Times, Washington Post and The Metro (UK), among others. It was featured on VH-1, ABC's Good Morning America, BBC News online, G4 Tech TV and Spike TV (See the Blame Society press page for more). Yonda and Sloan are managed by Kara Welker at Generate in Los Angeles and represented by Dan Shear of the William Morris Agency.
Their work has been screened over a dozen times at the highly competitive Los Angeles-based Channel 101, with three of their shorts (Chad Vader, McCourt's in Session and Fun Rangers) achieving prime time status. They have had two half hour comedy pilots screened at the New York Television Festival (The Splu Urtaf Show and TV Snack Pouch), with many of their pieces appearing at film festivals across the United States and internationally (See their festivals page). Yonda and Sloan write, direct, edit and act in all their material, and have been co-creating films as Blame Society Productions since 2001.
External Links
Community content is available under
CC-BY-SA
unless otherwise noted.